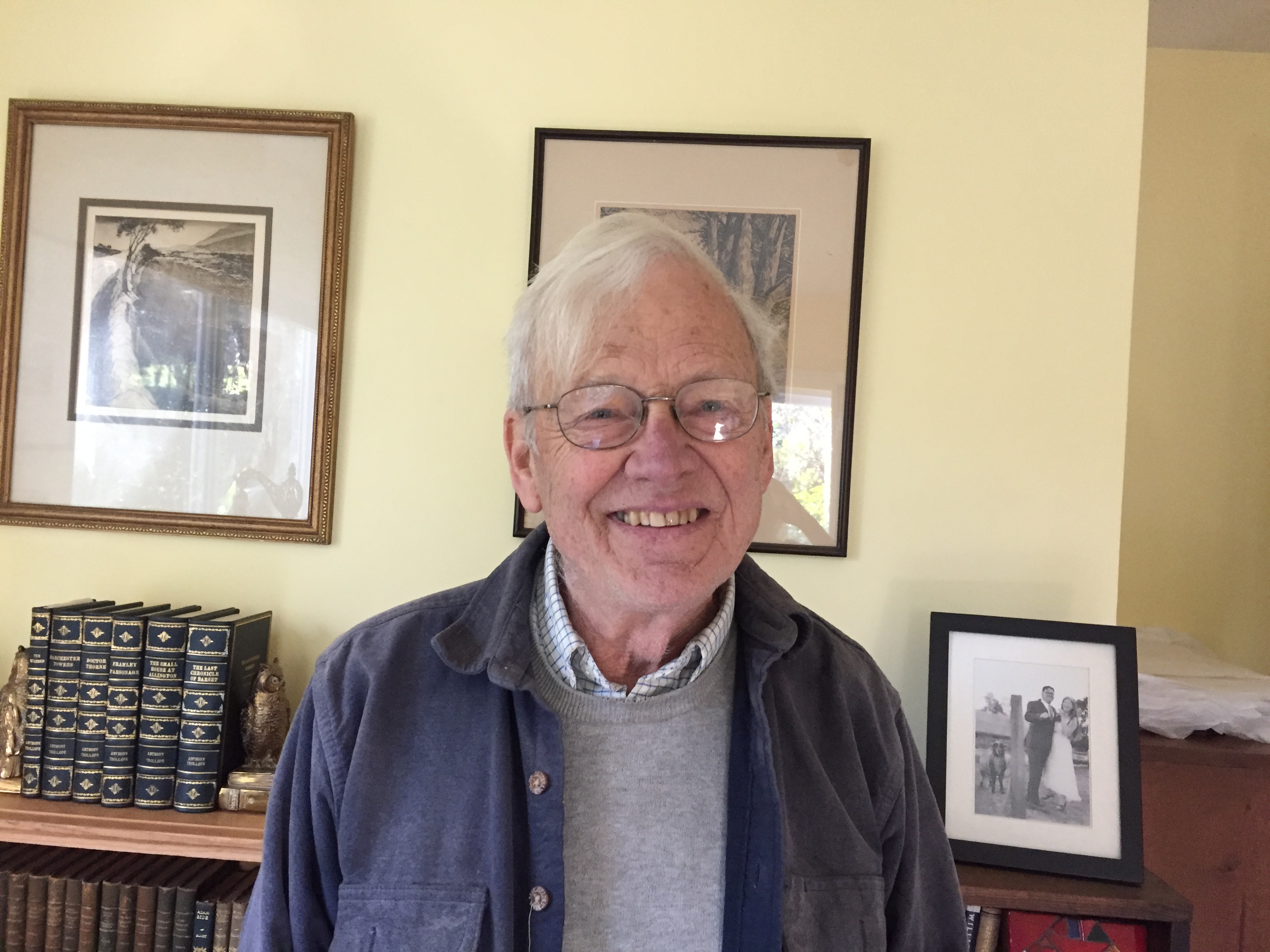 Tony Mountain
I was a member of the Hutchins School of Liberal Studies faculty for fourty-one years and it was, for me, the best job imaginable. The School offered an extraordinary education not only for its students but, in its highly interdisciplinary way, for its faculty as well. We were students and teachers together — an utterly unique program and I miss it. Instead of talking about all that, though, I'm going to tell a Hutchins anecdote. At this distance it seems about right.
I often go to a beach near where I live to get some exercise. One afternoon as I was getting off the beach, a group of seniors, tourists, asked me for directions and a recommendation for a place to eat. We got to chatting and eventually they asked me where I worked. I told them I was retired from the faculty of the Hutchins School of Liberal Studies at Sonoma State University and that for me it had been the job of jobs. They immediately wanted to know all about the Hutchins School so I went into some detail (small seminars, high student engagement, a thematic curriculum, etc.). At one point I said that my own academic background was in literature but that over the years in my constant attempts to help students discover their own best thinking, I had — and to some degree the whole program had — taken a greater and greater interest in and concern about critical thinking. What a bombshell the phrase "critical thinking" had on the group! At first they all started talking at once. To paraphrase, it went something like this: "No! Given the state of things, I thought critical thinking was long dead." "Does anyone talk about it in school any more?" One woman said, "Your Hutchins School needs to behave like rabbits, breed all over the country." As I remember, another added that we might start that breeding program in Washington D.C. They were laughing and laughing by then, having a good time: "Think critically. Start a revolution." But then one of them said that it was really a dreadfully serious matter. "Sometimes when I watch the news on TV I don't recognize my own country. You and your colleagues must be awfully dedicated, and sometimes awfully discouraged." There is some truth in that last remark. Still, as far as critical thinking is concerned, may the Hutchins School never give up, and may the School live on and on. And to that I'm sure that group of tourists would say, Amen."
 John Esterle
A strong advocate for Trust Based Philanthropy, John is the Co-Executive Director and a Trustee of The Whitman Institute, an independent foundation that advances social, political, and economic equity by investing in dialogue, relationship building, and inclusive leadership.  John led TWI's transition from an operating to a grantmaking foundation and its later decision to sunset the foundation in 2022.  A past board president of Philanthropy for Active Civic Engagement, John has served on the boards of the Germanacos Foundation, LeaderSpring, and Images and Voice of Hope. Currently he actively participates in a number of nonprofit advisory boards. John was also the PTA president for two years of Rooftop Alternative K-8 Elementary School in San Francisco. Prior to joining TWI in 1988, John directed Crime and the News Media, a pilot project that featured a series of dialogues between Bay Area journalists and proponents of alternatives to incarceration. He received his B.A. from the Hutchins School of Liberal Studies at Sonoma State University and his M.A. in Broadcast Communication Arts from San Francisco State University.  John lives with his wife in San Francisco and they have two grown children who bring them great joy.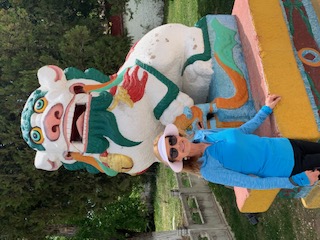 Anita Urmann
When I received my acceptance letter from Sonoma State, I had no idea in which direction I wanted to go. I had graduated high school in January the year prior with one goal: fly to Europe with the money I'd saved, a backpack and no itinerary. In retrospect, I think I was seeking novelty, relief from the tedium of suburban high school life. College, which I viewed as more of the same, wasn't on my immediate radar; it was part of a vague future plan.
For six months I traveled through Europe, Central Asia and North Africa. I celebrated my 18th birthday in Kabul, protected by my astonishing naïveté. When my parents bought me the ticket to Europe as a graduation present, I'm sure it never occurred to them just how far my open-ended itinerary would take me. When my funds ran low-even after selling my blood twice, a common practice among backpackers not quite ready to end their journeys-I came home.
I had no savings, no car and no goals. For the next year I worked in the kitchen of a convalescent hospital, for the local school district as a teaching assistant, and for a semi-conductor company assembling diodes and then doing quality assurance work. College started looking really appealing. I had enjoyed the school job, the hospital job taught me empathy and the electronics job was the most mind-numbingly boring thing I had ever done. I began toying with the idea of teaching, and I applied to Sonoma State.
So, there I was, looking at my acceptance letter. I had never doubted that I would be accepted; in spite of my disillusionment, I had been a high achieving student. I was excited mainly because I would be experiencing something new. Included in my acceptance packet was a brochure describing the Hutchins program. After reading it, my excitement level soared. Its reading intensive, interdisciplinary, seminar-based approach reminded me of the few high school classes in which I had thrived and grown intellectually. I immediately applied and was thrilled when I was accepted.
Hutchins never disappointed me. I dove into the reading and discussions. My freshman seminar changed my way of looking at learning and life. Subsequent seminars reinforced those changes and my worldview broadened and deepened. Sophomore year I was fortunate to join 14 other Hutchins students and Professor Jeannine for a semester abroad, a remarkable learning experience. Eventually I began taking classes in the education department to earn teaching certification. I graduated with a credential and a degree in Liberal Studies and promptly moved to Tahoe to replenish my funds by dealing blackjack. I volunteered at a group home for at-risk teenagers, ultimately working there full time. We moved the group home to Sonoma County and I returned to Sonoma State for specialist credentials and a master's degree. I began teaching at-risk high school students in two districts in Northern California and eventually moved to Idaho and began teaching a similar population in Washington State. After six years, I applied for a position as the Gifted Program coordinator and teacher in the district. I held that position for 17 years until retirement. My husband and I also started a blueberry farm which we still operate.
When I applied for the Gifted job, I had no "training" in that realm. But I was armed with a Hutchins education, an education that had enabled me to collaboratively develop novel strategies to educate troubled teens for the previous 17 years. In my interview, I described how I would implement inter-disciplinary education in both the pull-out enrichment programs for younger students and the daily humanities block. I even pulled from the Hutchins playbook and explained how I would set up a simulation on the decision to drop the atomic bomb. I got the job and dove in.
I had the freedom to use whatever materials I wanted but few resources. I applied for and received a Gates Foundation grant which included outfitting my class with technology and receiving amazing staff development. My students and I had the means to access the world. I had the means to truly teach the humanities block in an interdisciplinary way.
During the first seven years of the Gifted job, I was also president of the teacher's association and worked closely with the superintendent to explore shared decision making and interest-based bargaining. She and I, along with another teacher, a board member and a couple of parents attended several conferences and developed a framework for our district. We were able to, for example, implement a process for curriculum development and materials purchase that was based on research and collaboration rather than simply buying new textbooks based on how many worksheets they came with.
Later, I applied for a Rural Initiative staff development grant whose goal was to increase the number of rural students taking advanced and AP classes. The immediate objective was to help teachers in lower grades to adjust instruction to help students develop critical thinking skills, critical reading skills and analytical writing skills. As grant manager, I arranged for outstanding presenters to come to our district and arranged for seven teachers to attend a week long AP conference. As that grant was winding down, I was asked to serve a three year term on the Washington State gifted advisory board as a representative for rural schools. Prior to the first meeting, I received a packet of materials to peruse ahead of the meeting. When I got there, I was thrilled to participate in a Hutchins style discussion! I felt immediately comfortable and was impressed with how our  deep discussions led to evidence based policy decisions. Near the end of my tenure on the committee, I was asked to participate in a legislative work group on gifted education. The ultimate goal of the group was to craft guidelines for the legislature's reform efforts. Once again, real life was like Hutchins. We heard from nationally renowned experts, read broadly, discussed deeply and wrote the guidelines. The legislature was impressed by our work and the process used to complete it. Ultimately, it was written into law.
My Hutchins education has served me well professionally, and based on ongoing feedback from former students, it has served them well also. Perhaps more important is how my Hutchins experience has enhanced my personal life. To this day, I navigate the world based on that experience.